Two Aussie travellers on their way to Phuket have been filmed lashing out at passengers before being booted off the AirAsia flight by patient airline staff.
The pair were on board the morning flight from Kuala Lumpur on Boxing Day when a concerned passenger started filming.
The pair get out of their seats to the applause of the other passengers who think they're peacefully leaving, but they're just getting started.
"We're not getting off – f**ing d**kheads," a man wearing black snaps.
Want to stream your news? Flash lets you stream 25+ news channels in 1 place. New to Flash? Try 1 month free. Offer available for a limited time only >
His travel partner in red chimes in.
"F**king mutts," he says.
"We'll see yas there, aye?"
"I'm coming to Thailand – watch," the man in black yells to his captive audience.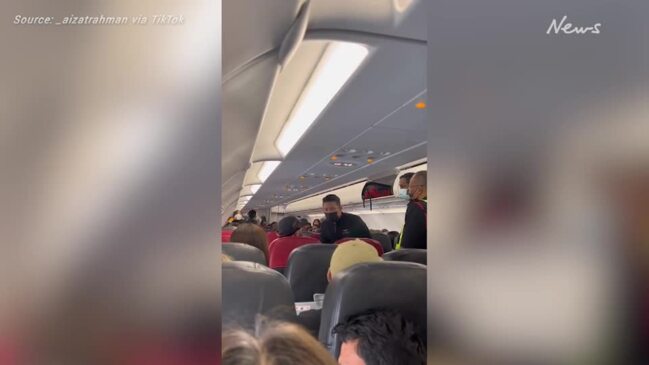 The pair appear to single out a group of passengers at the back of the plane, hurling abuse as AirAsia staff try to remove them.
The man in black sits back down, presumably hoping the staff will forget all about it.
"I was here before everyone," he argues.
The man in red returns to grab his bags.
"You're dead when you get there," he says to passengers at the back.
The other man in black also heeds the staff's advice, leaving with a parting shot at the passengers at the back.
The cabin erupts into applause as the last of the pair are removed.
The person who filmed the incident worried it would take an ugly turn but thanked AirAsia staff for finding a peaceful resolution.
"After all, credit to all the dedicated Air Asia staff from security staff … for their professional actions," he said.
"Things could've gone wrong if you act recklessly in a situation like this."
The series of videos went viral on social media.
Plenty agreed the staff that day did a "superb" job handling the situation.
"Seriously, it's not easy to handle this kind of situation. Well done guys," one wrote.
"Salute the cabin crew, brother. His communication skills, the way he handles the situation…. Superb!" said another.
It's unclear what sparked the confrontation.
AirAsia couldn't comment on specifics citing privacy concerns but told news.com.au that unruly passengers could face restrictions.
"AirAsia has a zero policy for unruly behaviour of any kind, and our staff are well trained in handling situations of this nature," Kesavan Sivanandam, chief airport and customer experience officer, said.
"Travel restrictions may be put in place at the discretion of the airline for inappropriate behaviour."