Almost 1,000 Adelaide metro bus drivers could walk off the job on Monday for 24 hours, causing commuter chaos for people returning to work.
Key points:
The TWU and Torrens Transit have been at loggerheads since October
According to the union, drivers deserve a pay rise and safer working conditions
It rejects suggestions the timing of the planned strike is intended to coincide with workers returning to the city
Bus drivers are planning to strike from 3am on Monday, January 9, for 24 hours, a step the Transport Workers Union (TWU) said would have a "big impact" on bus services available that day.
The TWU said it had been negotiating with Torrens Transit — the company that operates 80 per cent of Adelaide's bus network — since October over workers' pay and conditions, after the previous agreement had expired.
However, South Australian branch secretary Ian Smith said negotiations had reached a standstill and workers needed to take greater action.
"Bus driving is no longer safe and it's not well paid. Bus drivers are leaving the industry in droves," Mr Smith said.
"We've just hit a brick wall. We've got to the stage where there's nothing on the table."
Torrens Transit said it was disappointed the union was "proceeding with strike action, particularly in the light of a planned meeting scheduled" on the following day.
It said the timing of the strike — on a Monday when many commuters would be returning to work following a holiday break — was intended to cause widespread disruption.
"We had hoped to negotiate, in good faith, and work collaboratively, however, this industrial action from the union does not demonstrate these principles and aims to inconvenience the public," a spokesperson said.
"We have already committed to a first-year wage increase of 5.75 per cent, and offered an additional 0.25 per cent to the national superannuation guarantee rate for each year of the agreement.
"We believe we are offering above-market rates and conditions for our staff."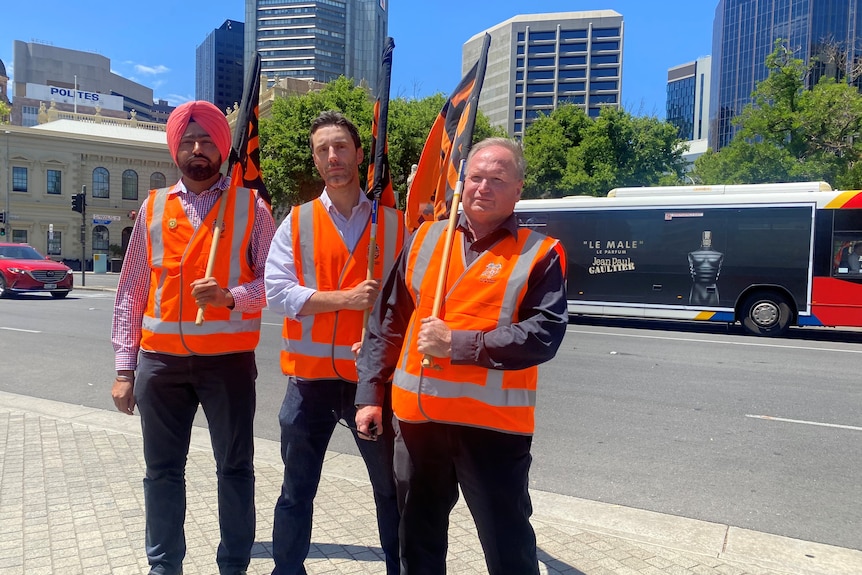 The spokesperson said Torrens Transit was working to "determine the level of services that we can provide for the public", but believed some level of disruption was inevitable.
"We hope to reach a resolution with the union at our planned Tuesday meeting."
Mr Smith said the choice of the strike day had "nothing" to do with Monday being the return to work for many city workers.
"Some of these drivers have not had a pay rise in three years and … they've been abused, spat on, kicked and punched," he said.
"This is a last resort, we don't do this lightly."
Mr Smith said the union would consider calling off the strike action if workers were offered $32 an hour.
He said that Torrens Transit bus drivers currently earned about $25.70 an hour.
Mr Smith said the company's proposed 5.75 per cent rise (equivalent to around $1.48 an hour) "just does not cover it, it's actually embarrassing".
Mr Smith also said workers needed greater safety measures in place, including secure cabins for drivers, more security guards on buses and in transport hot spots and tougher penalties for people who assault drivers.
The TWU is not ruling out further strike action.