Paid parental leave will undergo a dramatic overhaul under a promise in tonight's
Federal Budget
.
Currently, new mothers can access 18 weeks of government-paid parental leave (PPL), alongside work entitlements.
"Dad and Partner Pay", on the other hand, covers just two weeks for the other parent or primary carer.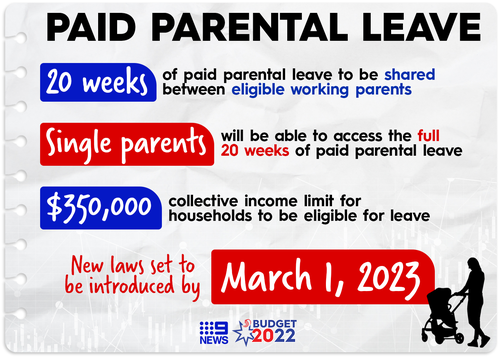 Under the changes – which the government pledged would be introduced by March 1 next year – the double schemes would be streamlined into one.
This means a working two-parent household will have access to 20 weeks of PPL, which can be split between those parents at their discretion in the two years following their child's birth or adoption. 
Dads and partners will, like mums, be able to access the government benefit alongside any employer-funded leave.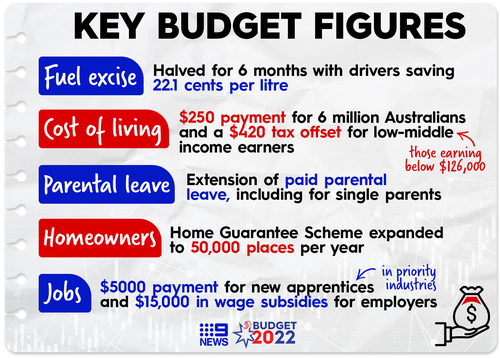 Single parents will have access to the same 20-week scheme.
Eligibility criteria will also be broadened.
Under the current laws, mums who earn up to $151,350 can access paid leave, but any woman who earns more – even if her partner has no income or a much lower income – is not entitled to it.
The government has pledged to broaden that threshold so that any household with an income of up to $350,000 a year between both partners will be able to make use of the 20-week scheme.
This was also a response to the rapid increase of women with a taxable income of more than $150,000, with the number more than doubling from 99,800 to 209,600 between 2010-11 and 2017-18.
The government claimed the new scheme would benefit the 260,000 parents who currently access PPL and grant eligibility to a further 2200 families currently barred from it.
It's also hoped the scheme will promote equality in the workplace for new mothers and encourage dads and partners to take a greater carer role during the parental leave period.
Under the current rules, in 2020-21, fewer than 90,000 dads and partners took their two weeks of entitled leave, accounting for just 30 per cent of births.
Treasurer Josh Frydenberg said the new laws would provide "flexibility" for new parents.
"Families, not government, are best placed to decide what works for them," he said.