A young Nick Kyrgios dances while wearing a crash helmet on a grainy home movie.
He's entertaining his family and friends, who are all cackling off camera.
Suddenly, something imperceptibly changes and, like many kids unsure of what to do when the camera is on them, he flips the bird.
It's quite possible there's never been a better encapsulation of Kyrgios as a tennis player than that footage from his childhood shown in the opening minutes of the new Netflix documentary series Break Point.
Kyrgios loves entertaining, until he doesn't. He loves the attention, until it becomes too much. And when that invisible threshold is crossed with Kyrgios, the smiles and self-satisfaction can turn to outward aggression in less time than it takes to smash a racquet.
As one of his rivals, Stefanos Tsitsipas, says: "He's not a bad guy, he just becomes a devil when he enters the court."
It's always been that way with Kyrgios.
His skill was evident to everyone from day dot, but he lost the mental game, unable to apply himself to training off the court and struggling when things went against him on it.
From his first big moments on court, beating defending champion Rafael Nadal as a 19-year-old at Wimbledon 2014, he would aim up against the supposedly unbeatable players and then struggle against journeymen.
He was constantly labelled the best player on tour without a slam and the next in line for one, but every time he won a match would talk about proving doubters wrong.
The all-access documentary series, from the team that turned Formula 1 into a mainstream sport with Drive To Survive, starts by reminding us 2022 was another year of contradictions for Kyrgios.
Knowing what we know now about the year just gone, it's easy to forget there was speculation about Kyrgios's playing future beyond last year's Australian Open. Of course, only Kyrgios would be thinking about leaving a sport at the start of the year and Australian Open doubles champion and Wimbledon singles finalist by the end of it.
But he didn't get out of the third round of any major and lost the only Masters match he played in 2021, all after a 2020 basically devoid of tennis due to the COVID-19 pandemic.
Meanwhile, the next group of Daniil Medvedev, Alexander Zverev and Dominic Thiem broke through for major finals or titles, with another batch led by Carlos Alcaraz and Felix Auger-Aliassime coming up behind.
When Kyrgios shocked the world against Nadal in 2014, his life changed overnight.
"I went from no-one knowing who I was to people camped outside my house," Kyrgios says.
"That match changed everything."
Kyrgios returned to the quarterfinals of a major in the next year's Australian Open, but couldn't crack the last eight at any point in the next seven years.
Carrying the hopes of a sport-mad nation became too much for him, taking a huge toll on his mental health.
"People really want to see him succeed," trainer and childhood friend Daniel 'Horse' Horsfall says.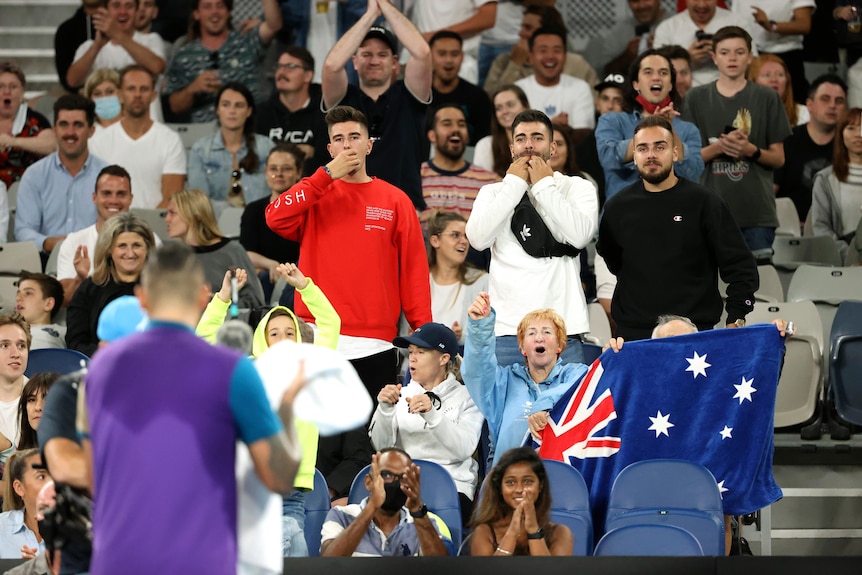 Horsfall, whose job title is somewhat vague due to Kyrgios's lack of an official coach, says "the majority of [his] job is just making sure [Kyrgios] feels good".
But it's not always possible, as the pair point out as they talk about years on tour when Horsfall had Kyrgios's location tracked on his phone and more than once had to go searching for Kyrgios to drag him out of clubs on the nights before matches.
Kyrgios says his life was "spiralling out of control".
"He just became aggressive, so angry. Always angry," mother Nil Kyrgios says, wearing a T-shirt emblazoned with the NK Foundation logo alongside a collection of his umpteen obliterated racquets.
If Kyrgios reserved the brunt of his ire for the carbon and catgut that he wields with such brilliance and brutality, he would surely have a higher approval rating, but his tendency to belittle, demean and abuse others on court, as well as looming assault charges, mean being a fan of his requires constant justification.
Of course, some people's criticism of Kyrgios comes from a wholly inexcusable place.
Former Olympic swimming star Dawn Fraser infamously said of Kyrgios and German-born Bernard Tomic: "If they don't like [Australia], go back to where their parents came from. We don't need them here in this country to act like that."
She later tried to walk back the statement, saying she was talking about representing other countries in a sporting capacity.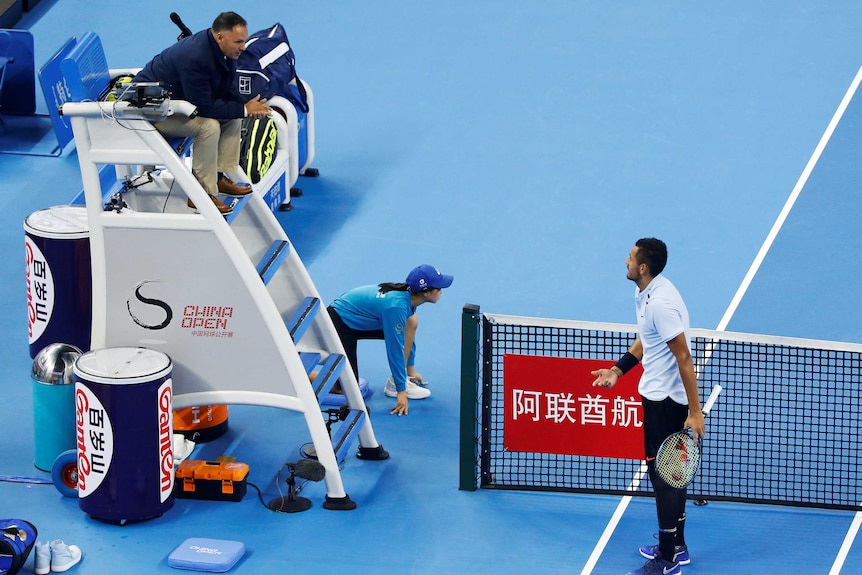 Regardless, there's no doubt Kyrgios and any number of the next, more multicultural wave of tennis stars have dealt with even more overt racism, both directly to their face and prolifically on social media.
"It was just another unnecessary thing to deal with. It hurt," Kyrgios says.
And while that sort of abuse still follows him around, the 26-year-old seen in the opening episode of Break Point is better equipped to handle everything that comes with playing one of the most mentally draining sports in the world.
Kyrgios has coped with this in a number of ways, including cutting back on the number of tournaments he plays to allow time at home through the year. And at the 2022 Australian Open he soothed the disappointment of a second-round singles loss to Daniil Medvedev by taking to the doubles court with childhood friend Thanasi Kokkinakis.
Tracked through post-match press conferences and interviews with the Break Point filmmakers, we can see Kyrgios go from viewing the 'Special Ks' run as a bit of fun to a real outlet for grand slam ambition.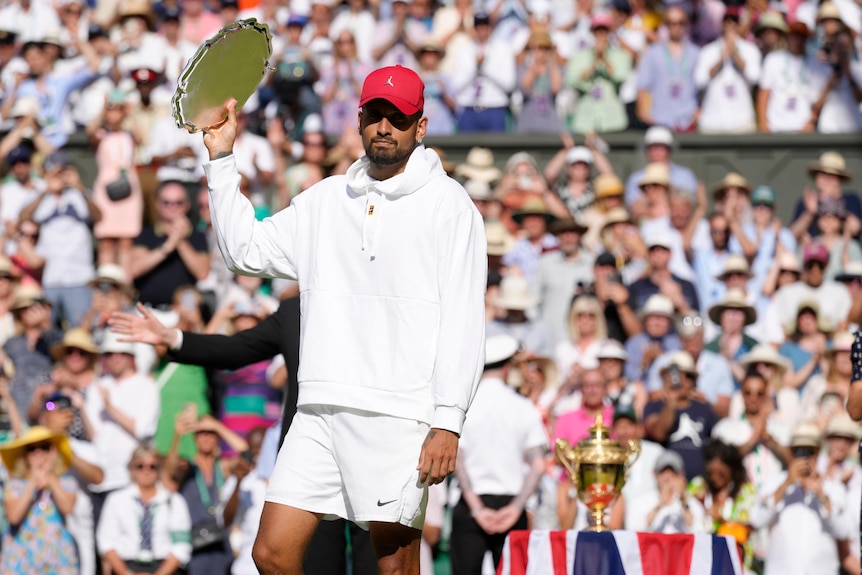 Despite claims of more maturity, when they're together Kyrgios and Kokkinakis behave like the nine-year-olds they were when they first met, making jokes about premature ejaculation and pretending to hump each other in the players' race.
Between the lines, their power game honed on the singles court is tough to handle for doubles specialists. And the crowds, both in terms of size and conduct, are alien to the format as well.
As their run at last year's Australian Open gathered steam and captured the imagination of crowds on courts getting gradually close to centre stage, Kokkinakis said: "The rowdier the better. Sink piss and come here."
A strange stance considering his partner's regular outrage at fans making sounds at the wrong times during matches. Another contradiction.
And while a happier Kyrgios doesn't necessarily mean a quiet Kyrgios on the court, it did lead him to the title alongside his mate.
"When people say Nick Kyrgios didn't achieve this, didn't achieve that; all that I've gone through led to a grand slam. It's there, it's never leaving now," he tells the Break Point crew.
"I feel proud of everything I've overcome. That whole journey to get here.
"I'm here to show you that I'm one of the best players in the world. I don't see anything holding me back."
A few years ago, the natural caveat to that would be "except Kyrgios's mind", but coming off comfortably the best year of his career with a renewed (or perhaps newly discovered) hunger for victory and improved mental health, it appears that roadblock has been removed.
The Australian Open starts on Monday, January 16, with Nick Kyrgios and Ajla Tomljanović leading the Aussie charge.