To say Keith Gall is good with his hands is an understatement.
Key points:
Tin Can Bay chainsaw sculptor Keith Gall hopes to have his artwork feature at the 2032 Brisbane Olympic and Paralympic Games
The sculpture was carved with a chainsaw in 1999 and features Australian native animals
Mr Gall learnt his skills in America
The master sculptor, from Tin Can Bay in Queensland's Wide Bay region, uses a chainsaw with the ease of a paintbrush, as he transforms ordinary pieces of wood into artistic creations, right down to the tiniest detail.
His pièce de résistance, called Silky, stands three metres tall and weighs more than a tonne.
The 23-year-old sculpture features 21 native Australian animals and has traversed the country over the years, even making a pit stop in Sydney during the 2000 Olympics for tourists to admire.
Now, Mr Gall is preparing for his next big project – turning Silky into a bronze statue that he hopes will dazzle more tourists at the Brisbane Olympics in 2032.
"It's here in Tin Can Bay now, so I'll be able to work on making the moulds to use the lost wax method of casting," he said.
"I spoke with the mayor of Gympie and just made sure he knew what it was so that when we apply for help from the council and for a place to put it at the Olympics, he'll be able to help me do that."
American chainsaw carving
Mr Gall has a solid reputation, named Australia's chainsaw sculpting champion in 2000 and 2001.
He attributed his talent to a move abroad several decades ago.
"I do sign writing, that was my trade but then computers came out – that was no fun," he said.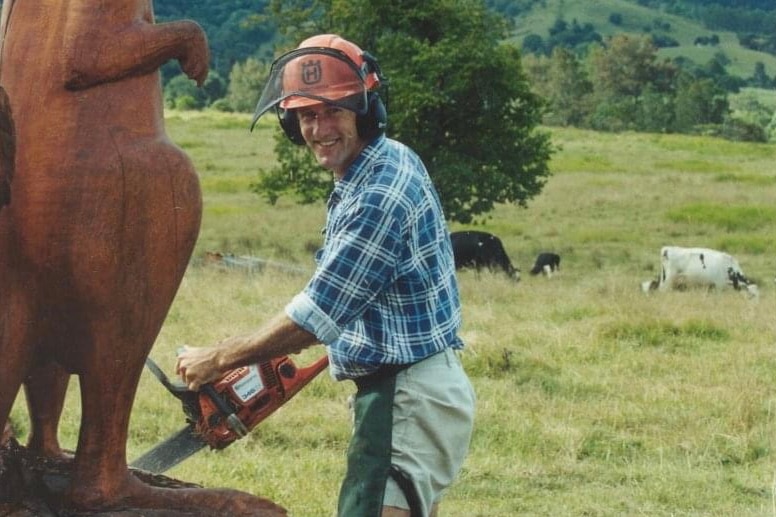 "I went to America to learn more about hand-carved sign work and while I was there, I watched the guys do chainsaw carving of bears and Native American people.
"I watched guys every day for six months."
It was homesickness that was the catalyst for Silky.
"The original idea came from when I had a silky oak stump given to me by a farmer — I used to milk his cows and I was going to cut it into tabletops," he said.
"When I got back to Australia, I was homesick for Australian animals, but then the chainsaw broke and didn't work, so I put a tin roof over [the stump].
Mr Gall said it took a year to complete Silky and it quickly found a new home.
"I got it dug out of the ground, put it on a truck and took it to the Woodford Folk Festival and worked on it down there and got it pretty tidied up," he said.
"Some people wanted to buy it and take it down to the Sydney Olympics and so it went down there.
"I built a trailer for it and took it around to different shows and festivals … and a lot of other events around south-east Queensland."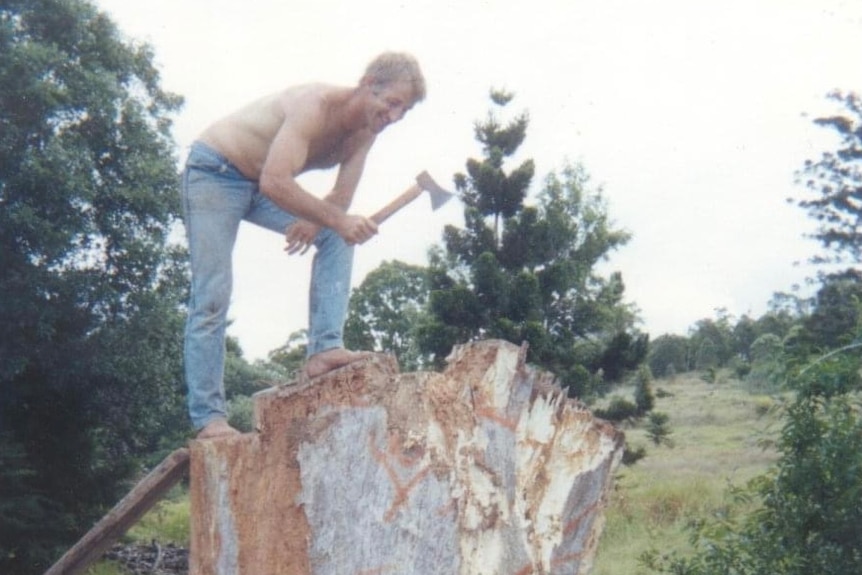 A delicate process
Mr Gall is 60 now, but he hasn't lost his skill and is proud to have never suffered an injury on the tools, but he knows others who haven't been so lucky.
To him, it's a labour of love.
"Most of the wood has come off with a big chainsaw and then a smaller one and I've then used grinders and sanders to get a bit more detail and different textures," he said.
"Then I've used chisels to get the eyeballs and then sealed it up.
"The thing about working with wood and a chainsaw is you are very careful and that's the secret, you just gotta be 300 per cent safe."
Mr Gall said he never tired of seeing people's reactions to his artwork.
"Today a girl started welling up when she saw it … I don't know why," he said.
"When I had an exhibition at the Woodworks Museum [in Gympie] six or eight months ago, there was a lady there that said that whenever she comes into Gympie from the north and she could see the statue from the road, she always knew she was home when she saw that statue.
"It makes me feel good."